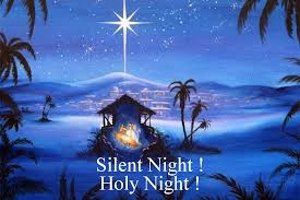 You can now watch our YouTube Instruction video on How-to-sign, using ASL, "Silent Night."  Once you have learned the signs then you can sing and sign along to "Silent Night" either with our We Play Along YouTube song, or you can have fun following along on our We Play Along Kids video.
History:  "Silent Night" is one of the most performed, sung, and enjoyed Christmas Carols of all time. The lyrics were written by a priest named Joseph Mohr in a small town of Obendorfbei Salzburg in Austria.
On Christmas Eve 1818 he met with a composer named Franz Xaver Gruber and asked him to put a melody to his words that could be performed on the Guitar. That night it was sumb by Mohr and Gruber who accompanied the song on his guitar.
Within just a few years it was being performed all over Europe and by the late 1860 in the United States. Read more about the history of Silent Night.
3 Reasons Why Silent Night Became Popular
For me there is no secret to why "Silent Night" became such a popular Christmas carol. Here are my 3 reasons why:
First – it is easy to sing. the melody is simple with a range that most people can sing without any difficulty.
Second – Silent Night can be accompanied with simple chords on a guitar. It does not require a great deal of classical training to perform. Simply learn 3 chords on the guitar, for example A, E and D, and you will be singing and playing this carol in no time.
Third – the well written lyrics that paint real images for everyone to imagine. Visions of the Holy Family, a beautiful baby, shepherds in a field, stars, angels, and lots of other pictures that captivate our imagination and thoughts of the first Christmas.
When you add American Sign Language, to your presentation of Silent Night you are adding the beautiful movements of this language to the song.
I would love to hear your thoughts on why you think Silent Night has become such a favorite Christmas Carol and if you have any other Carols you would like to see signed, let me know.
Find more Classic Christmas Carols on our website.