Children's animal Songs are an ideal way to start.
Over the years, I've heard so many protests about singing songs with children.  Things like, "But my voice isn't great," or "I don't know how to sing," have been repeated over and over.  The reality is that it doesn't matter.  Your children don't care about your voice.  They enjoy the interaction and playfulness that ASL songs provide.  Don't worry about your voice, just engage your children with ASL songs as a fun musical activity.
All you need is some enthusiasm, a few signs, a simple ASL song and you're all set.  I really like ASL animal songs to use with children of all ages.  Older children will sign all the signs and for babies you just need to sign a few.  You can watch and learn this ASL animal song called I See a Bunny.  It is a very simple baby song.  Bunny is generally a two-handed sign, but you can also do it one handed if you are holding your baby or your toddler.   And though it is a very simple song, it also is fun for toddlers and preschoolers to sing and sign especially when they get to pick the animal that you will sing and sign about.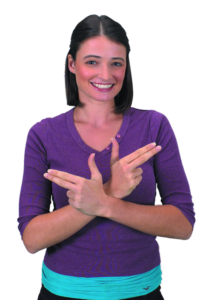 On our We Play Along YouTube Channel we offer instruction segments for all our ASL songs for babies, toddlers, preschoolers, and children.  Watch our instruction segment for I See a Bunny, and see how easy it is to sign ASL baby song.   This animal song is simple, repetitive, and features just a few ASL signs for words and animals.  
Once you have learned to sing and sign this easy to sign animal song you can change the animals and their sounds to any animal you want to sing about.  Use a dictionary or online resources, like ASLPro.com, to learn some additional animals signs.  Ask your child or children to come up with animals they want to sing about and if you don't know the sign for the animal you can look it up or just sing and don't sign the animal.
So, the key to ASL songs you sing and sign with children is not your voice, it's your enthusiasm, and learning the song so you are comfortable with the melody and the signs ahead of time.  You can choose any ASL song on our We Play Along YouTube Channel.   Watch the instruction segment for any ASL song first and then sing and sign along to the ASL song video.  Once you are comfortable you can then teach your child or children's the ASL song.  We post new titles each week on Friday.  Be enthusiastic, have fun, use ASL songs with your children and watch how ASL song activities will enhance and support early education.  
I See a Bunny is featured in our Sign to Speak – Babies Can Talk. This book is a great resource for learning how to sign with babies.  It was co-written by Dr. Marilyn Daniels and provides you with research support, key baby signs, additional learning signs, and, along with 11 more easy-to-sign songs to sing and sign with your baby.