How to sign America The Beautiful with American Sign Language, ASL
America The Beautiful is a classic American patriotic song.  The music was composed by Samuel A. Ward, the lyrics were added by Katharine Lee Bates, and it song came out in the early 1900's.  America The Beautiful is one of America's most beloved songs and is a symbol of the United States to the world.  Read More: 
America The Beautiful is not only a wonderful America patriotic song, but it is also a great song to sing and sign, using American Sign Language (commonly known as ASL).  You can watch our ASL instruction of America the Beautiful on our We Play Along YouTube channel. Our We Sign instructor will teach you all the signs you need to know to sing and sign this song.  However, we always encourage you to limit the signs, at the beginning, to the amount you are comfortable signing and add more as you become more proficient.  Also, choose to sign the number of signs based on the age of your child or children.  Sign just a few with younger children and for older kids, you can sign as much as you like.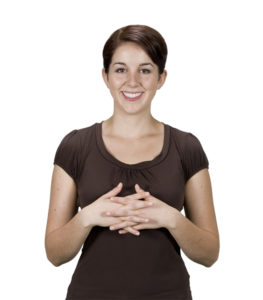 Adding American Sign Language to a song, like America The Beautiful, offers children a challenging and playful way to learn this great American patriotic song.  ASL songs also are a powerful way for children to learn and remember vocabulary.  ASL songs support the memorization and recall of words and their meanings by physically making the word with a sign, saying the word, seeing the word made as they make the sign, and connecting the signs and the words musically when they sing the song.
Read more about the benefits of ASL for kids. 
Watch our ASL song demonstration America The Beautiful and have fun singing and signing this classic American patriotic song.  It is just one of many great ASL songs featured on our American Patriotic DVD/CD.  We have taken the guess work out of a great selection of Patriotic songs by providing you with the accurate signing information you need to sing and sign these songs.